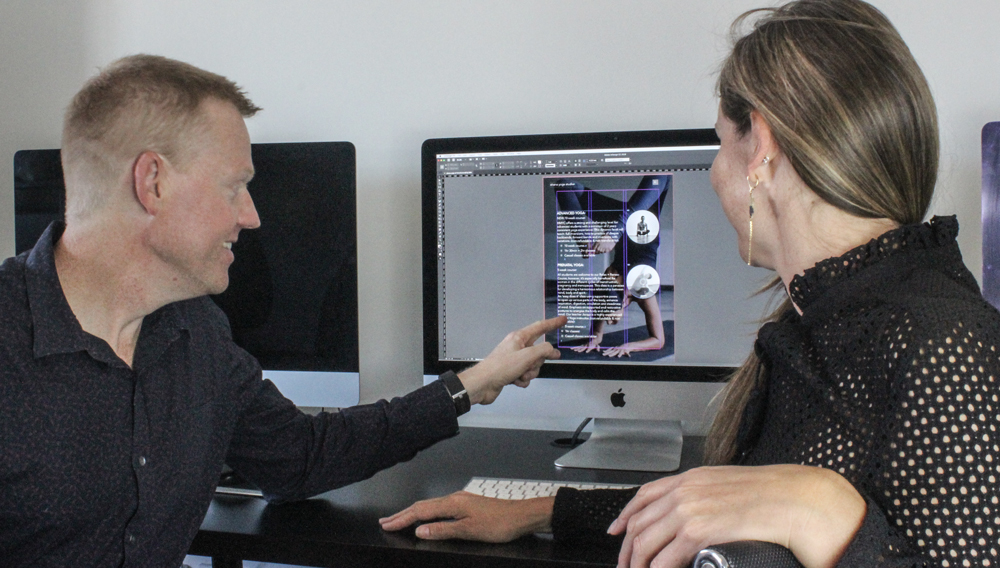 Photoshop course Sydney
Learn New Skills During a Photoshop Course in Sydney
Our trainers, Sean and Aaron, deliver custom Photoshop courses to business in Sydney. Our group or one-on-one training will help your employees learn the specific tools and techniques that will be most applicable to their tasks.
Signs You Should Invest in Photoshop Training in Sydney
Consider booking Photoshop training with us if you are experiencing the following:
Outsourcing photo editing – Photo editing can be simple to do if you have the knowledge. By becoming familiar with photo editing software, you can eliminate the costs associated with outsourcing the editing work.
Multiple review cycles – Working with a vendor requires constant communication and numerous reviews and edits to your file. Having the ability to complete the edits in-house, reduces miscommunications, allows for edits during review meetings, and will result in faster approvals on the final file.
Lack of control over the process – If you feel as if you're not in control of your content creation, it may be time to learn Photoshop. By becoming familiar with the program, you will be in control of the development process from conception to final approval. Understanding what can and cannot be accomplished in Photoshop allows you to communicate more effectively with your designers, making your workflow smoother and more efficient.
Taking an Adobe Photoshop course is essential to creating a more efficient, cost-effective, and smooth workflow.
How Much Do You Know About Our Adobe Photoshop Course in Sydney
Below are a few key things you should know about our Adobe courses:
All courses, including Photoshop, are presented by our qualified and certified trainers. We have over ten years' experience training individuals and groups on the Adobe suite.
We customise our courses to your application. Tailored training means you receive instruction on the tools and techniques best suited to your tasks. In our Photoshop training those skills could be basic image adjustments and retouching, or more complex tasks such as creating textures and illustrations or special effects.
Our Kick Start Pack is the perfect place to start if you are a first-timer with Photoshop. In this package, we cover things such as industry-standard editing techniques, explain image size and resolution, how to crop and resize an image, a variety of non-destructive editing techniques, and key filters used in Photoshop.
We enjoy working with our clients as they learn how to best use Adobe programs for their business.
Why You Should Use Short and Suite
There are many reasons our clients trust us to provide training for their employees:
We have over ten years' experience offering Adobe training, and ensure our courses are fun and supportive.
While our head office is located in Collingwood in Melbourne, our trainers travel to your office. We want your employees to feel comfortable during their training, and the best place to do that is in your Sydney workplace.
While you can learn Photoshop in Sydney, we offer a variety of Adobe courses including courses on Indesign, Illustrator, Acrobat Pro DC, After Effects, and InCopy. We can tailor all our courses to your industry, group or one-on-one needs.
Short and Suite should be your 'go-to' for all Adobe program training.
Contact us for more information about our Photoshop courses.